by Cy Chong
The coffee scene is abuzz this September as CAFFA returns once again with its commitment and promise to bring both the coffee and art communities closer together, filling the avenues of Publika with the heady aroma of fresh brews as well as many other tantalizing reasons for coffeephiles to gather around and crowd the event floor. Despite the worsening haze that threatens to choke up our city, the Coffee & Art Fringe Festival Asia is expected to ignite a passionate dialogue on coffee with followers that ranges from business owners and professional baristas to home brewers for three consecutive days, kicking off from the 11th to the 13th of September 2015. This event was highly anticipated months ahead due to its renown for its unwavering independent spirit which encourages appreciation of any art form, especially in coffee.
The event, now in it's fourth year, has become a pit stop for all things coffee, which allows opportunities for businesses to improve their food and beverage systems. Should you plan to open up a cafe of sorts, you will be spoiled for choice in terms of gadgets and equipment - case in point, let me throw you some names: Anfim grinders and Rancilio products can be seen in Degayo's booth. Classic Company displays their series of Moka pots and a beautiful La Marzocco Linea. Monin and DaVinci syrups are displayed gracefully as their sales representatives are busy gleefully handing out samples and chatting up the prospective customers. Alpha Dominche Steampunk, parked at Dankoff's booth, has sparked much interest within the crowd for its recent and consistent appearance in many coffee events. And the list goes on. Many company representatives are seen engaging in over-the-counter conversations with potential business partners and coffee drinkers. So leave your shyness at home, these guys are more than thrilled to share their extensive knowledge and sagely insights with you.
Most brands present at the event thrust their products into the front line in an attempt to push their key products into the limelight. A Slayer espresso machine with beautiful wooden finishing is seen at Coffex's booth, crafting manually-controlled espresso based drinks to the crowd. Dankoff's staff pulls shots from the Victoria Arduno espresso machine (a machine widely used in barista championship tournaments). Most booths endorse their own coffee beans, passing out samples everywhere, resulting in a veritable frenzy of caffeine that awaits your indulgence.
Still on the subject of free coffee, CAFFA is one of the many events throughout the year that herd roasters together in one venue. This equates to more choices of coffee beans for your cafe or home. Many are giving out free samplings of their own roasted beans for visitors to try. Single origins and blends are found in most of these booths. The Roast Things is purveying some delicious single origins (Specifically, Ecuador, Kenya, and El Salvador) and Awesome Blend 2, a coffee blend that awes your espresso-based drinks away. Coffea Coffee has an impressive set of single origins that may tease out the curiosity in the crowd. Will Jung, a Korean roaster, has secured a booth to sell his flavorful and delicious bottled ice crips and coffee beans, along with an impressive array of ice-drippers that are standing tall and proud in Will Jung's booth. SLO Atelier makes its first appearance in an event, bringing with them their myriad selection of single origins. Their friendly staff are eager to engage and assist with any queries and requests the event-goers might have. Lighthouse joins the party with their singles and blends at a corner of Dankoff's booth. So as you can tell, there are many overwhelming choices of samples for you to satiate your whims and fancies.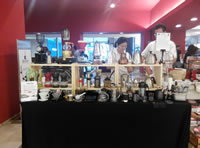 Going as a home brewer? Some booths are hawking domestic-grade espresso machines.
Welhome espresso machine and grinder, which can be found in Dankoff's booth for instance, is bundled for the customer at an affordable price. Coffex is selling Breville double-boiler espresso machines and their smart grinders, which has recently received much attention from many first-timers. Be sure to get it here as many are giving away bundle promotions for home machines. Nescafe marks its presence in CAFFA with many activities for its guests. They are giving away hand-drawn classic Nescafe mugs (remember those red mugs in Nescafe advertisements?) and free coffee to participants.
Exhibit Cafe greets the crowd with its minimalistic installation, filled with beautiful Japanese coffee tools like Torch and Kinto products. They offer Torch drippers with Pitchii servers at a discounted price. Exhibit Cafe is also selling some of their Maruyama coffee, sure to put smiles on their customers when they bring home their new coffee and charming coffee tools.
Besides coffee tools, gear and gadgets for baristas can also be found in some booths - special edition Rattleware pitchers, Acaia scale or Bona Vita kettles etc. Coffee Icon is displaying Tiamo products and some home brewing necessities such as thermometers, paper filters, coffee pots and hand-grinders. Their booth is worth paying a visit to but do be warned that you may walk away with a lighter wallet. Just around the corner at Coffee Icon's set-up, booths that sells hand-made marshmallows (Huey & Wah cafe) and wild honey (The Honey Hearts) may surprise and delight you with their quality. And if you've ever wanted to get yourself a KeepCup, this is the place. Finally, should you find yourself feeling peckish, treats and refreshments can be found in stalls beyond the perimeter of the event.
Not far from the event, the Barista Guild of Asia has arranged a colloquium which invites coffee experts, business owners, roasters and baristas to share their experience and knowledge to attendees. It aims to have "meaningful coffee conversations" (like its tagline) although a fee is required to participate. Scoot on over to BGA's facebook page for further details.
CAFFA envisions to understand and appreciate independent art, food and coffee community. This is a vision that can be considered to be somewhat fulfilled. However, when compared with last year's CAFFA, it seems lacking in its independent spirit as its current lineup consist of mostly big names and established players. Nonetheless, it is still a worthwhile affair for anyone with coffee pumping through their veins to experience. Do arrive early before the expected horde fully mobs the venue. It starts at 10am to 8pm, from 11 to 13 of September at the Square in Publika, Solaris Dutamas. Come mingle with the community and be apart of the coffee phenomenon!